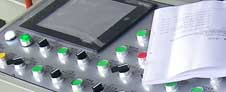 Name: BAISHENGYUAN
Tel: +86-136-2630-7530
Fax: +86-631-5921397
E-mail: info@baishengyuan.com.cn
Add: No.642-5# Qilu Avenue Weihai City Shandong China
Skype: WATERSURFACE0631
QQ: 917669496





Could you have a brief introduciton of Shandong Baishengyuan company and its Market positioning/target in wood industry?
Shandong Baishengyuan established in 1956,develop from Weihai Wood-mac factory,deveotes into service professional veneer,plywood and timber man;to be NO.1 in China and focus rank top serious in Asia and World.

Which model is the first choice in your Spindless Rotary Lathe machines of Baishengyuan series?
"/3 series"SL1350/3;SL2000/3;SL2600/3. Why?--This serious equip CNC system; Double servo-motors,correspond knife gap (related with veneer thickness) and knife carriage;Strong hydraulic station;Cast iron machine body; Double Gear-box transmission in driven rollers in stead of chains;First-class electrical parts be used within electrical cabinet;Meet hard-wood peeling;
Super-friendly operator touching panel board,peeling veneer thickness automatic change ,no need traditional manual way to change knife gap
;ETC.

What's different between Spindless Rotary Lathe
SL1350/4
;SL2000/4;SL2600/4,
SL1350/3
;SL2000/3;SL2600/3 and BQK1827
F1
;BQK1813F1?Although "/4"Series spindless rotary lathe equip Hydraulic station,but its knife carriage be simple compared to "/3" Series,equipped single servo-motor,driven knife carriage go forward and backward;venee
r thickness change be manual way; The BQK Series spindless rotary lathe BQK1827F1;BQK1813F1 driven roller structure is chain,operation panel
board be different with "SL" series.

How about normal business cooperation terms and payment way?
30% DOWN PAYMENT BY T/T, THE BALANCE 70% AFTER MACHINES DONE BEFORE SHIPMENT DELIVERY.OR AT SIGHT 70% L/C.DELIVERY TIME AROUND 45 DAYS (EXCEPT VENEER LINE AND PLYWOOD LINE) ONCE RECEIVED DOWN PAYMENT.-IF WITHOUT SPECIAL NOTICE THE OFFERS FROM US ALWAYS KEEP VALIDITY TIME.

How many Baishengyuan company in woodworking machines of China?Only one,so you should check with us if your machine or offer original of us.

What about
machines installation,guarantee and after-sale serivce?
THE MACHINES INSTALLATION&TRAINING IF NEEDED BY CUSOTMERS,OUR ENGINEER AVAILABLE IN OVER SEA MARKET, FOR MACHINES INSTALLATION AND TRAIN OPERATOR, BUYER RESPONSIBLE
FOR TICKETS, 70$-100$/DAY AS SALARY(SATURDAY&SUNDAY WORKING DOUBLE SALARY,IF NOT WORK,70-100$/DAY), FOOD, LIVING, WORKING DAYS ACCORDING MACHINES QUANTITY.
- MECHANICAL PARTS AND ELECTRICAL PARTS WARRANTY PERIOD IS SEPERATE SIX-MONTH AND ONE YEAR AFTER INSTALLATION.

We want to know Shandong Baishengyuan agents policy in oversea market?
We are looking for long-term
value added agents
,not a simple trader only.Once user face fault, your team should with ability of
Vanguard in machines engineering.

Shandong Baishengyuan machines be albe to enter Euro and US market?
Of Course.We have above markets users over dozens;correspond woodworking machines CE certification.

What's relationship between Shandong Baishengyuan and Weihai-linares machinery?
Weihai-linares is a joint venture between Shandong Baishengyuan and Argentina Linares since the year 2004.Mainly export to USA,Japan,Latin Areas,West-euro areas.In recent years start sale in China and other countries.More details visit
www.weihai-linares.com

The
general exhibiton plan of Shandong Baishengyuan company
is?We take part in Beijing and Shanghai International Wood-mac exhibiton every year,and Canton fair (China Import&Export Fair).According market performance we are take part in oversea professional woodworking fairs.

According to some spindle rotary lathe user feedback, How to make sure the knife gap (between knife blade and nose bar,
its related to veneer thickness) in line ? Normally, in advance of spindle rotary lathe departure our factory,the knife gap have
been set in good positon.Most customer meet this question always in peeling blade change,
have some query,how to make the knife gap in good horizontal line level,here we are organize a small course from three points
(knife holder's micro screw, nose bar's micro screw,
two valves on hydraulic station),combine photo and drawing.
1): As machine equip hydraulic system,press the button on control panel, the knife holder opening&close freely,
take out knife holder&blade together;at the bottom of knife holder
you will find some screws for refine adjust.
2):Back the nose bar,on knife carriage,you will find groups of screws also,they are correspond to nose bar for refine adjust.
3): After working for a period,inside of these double valves must be keep clean,they are related to hydraulic pressure
affected the gap adjust.