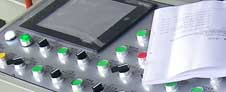 Name: BAISHENGYUAN
Tel: +86-136-2630-7530
Fax: +86-631-5921397
E-mail: info@baishengyuan.com.cn
Add: No.642-5# Qilu Avenue Weihai City Shandong China
Skype: WATERSURFACE0631
QQ: 917669496




Product name : Double Sides Calibrate Sander

Item : MM-SRP13D
Details:
How to choice a more suitable sander for you panel board, some basic knowledge will helpful for u
according feeding way difference,there are two types:
Roller type sanding machine, let's name it "R"type sander,general speaking suitable higher speed work,
more suitable thinner board (thickness less 12mm), able to realize continuity of feeding&sanding;
Belt type sanding machine, let's name it "B"type sander,general speaking suitable lower speed work,
small or medium size plant, more suitable thicker board (thickness over 12mm).
Except feeding way, according to sanding work request there are flexible combination way of steel rollers
(dia.60mm,130mm,240mm and bigger),rubber rollers(variety of hardness),polishing function,motor power ,etc.
How to coordinate above of them, to be of essence, a knowledge work.
Double Sides Calibrating Sander Prameters&Character:
Sanding work-piece width 80~1300mm
Sanding work-piece thickness 0~150mm
Sanding wood pieces length ≥100mm
Sanding precision ±0.1mm
Abrasive belt motor power (90+2+75+2)kw
Abrasive belt speed 30m/s
1

st

Abrasive belt size 2800×1360mm
2

nd

Abrasive belt size 3080×1360mm
Upper body-elevator system 's motor power 3kw
Sanding pieces feeding speed (frequency conversion) 6~35m/min
Auto-feeding wood pieces system 's motor power 18.5kw
Working pressure 0.6~0.8Mpa
Compressed air consumption 2.5m

3

/min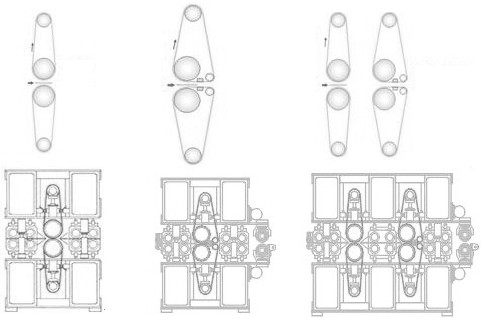 More models avilable according user's request.
Steel Roller sanding system 4 units
Pressing-pad of sanding system 2 units
Dynamic photoelectrical Tracing system of abrasive belt 4 pieces
Movement limit and Protection system for machine-body elevator 1 unit
Emergent brake and safeguarding system 1 unit
Breakage protection system of abrasive Belt 4
Pressure working-piece system 12 unit
Auto compensates system for overloading 1
Dust-collecting air speed 20~30m/s
Dust-collecting air volume 32000m3/h
Electrical power distribution cabinet 1 unit
Touch-Screen PLC and control cabinet 1 unit