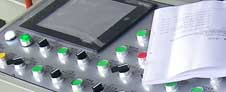 联系人: 穆新
电话: +86-136-2630-7530
传真: +86-631-5921397
E-mail: info@baishengyuan.com.cn
地址: 山东省威海市经济技术开发区齐鲁大道642-5号
Skype: WATERSURFACE0631
QQ: 917669496




产品详细:
Here we are issued the vener sanding machine as below
Sanding veneer thickness 0.15-85mm;
Sanding veneer length ≥300mm
Sanding veneer width 40-1,300mm(1000mm,610mm,410mm);
Abrasive belt sanding speed 20m/s;
Polish wheel speed 20m/s;
Feeding veneer speed 5-25m/min;
Adopt vacuum veneer feeding belt,equip vacuum fan,make sure veneer be stability
Sannding abrasive belt size 1,330x2,200mm;
Sanding abrasive belt motor power 15kw (20hp);
1st polish wheel motor power 4kw (5.5hp);
2nd polish wheel motor power 4kw (5.5hp)
Conveyor motor power 4kw (5.5hp)
Lift motor power 0.37kw(0.5hp)
Adsorption motor power 5.5kw(7.5hp);
Working pressure>0.55Mpa;
Speed required for dust collector ≥25.5m/s;
Compressed air volume ≥5,100m3/h;
Dimension size 2,430x1,580x2,100mm
Net weight 2,850kg.

Polishing roller is covered a type of fiber have adsorption feature,
very little&small fines residue could be eat by fabric roller,then self-healing;
with character of flexible, damp-resistant/moisture proof, good permeability,light weight,
incombustible,avoid 2nd hurt to veneer surface.
itself friction count help and prevent veneer slip, deviation,auxiliary cleaning.
In a word care veneer be more.